(717) 587-4848
Liskey's Fitness Services
Shawn R. Liskey
717-587-4848
"Taking more than you are willing to give!"
FITNESS SERVICES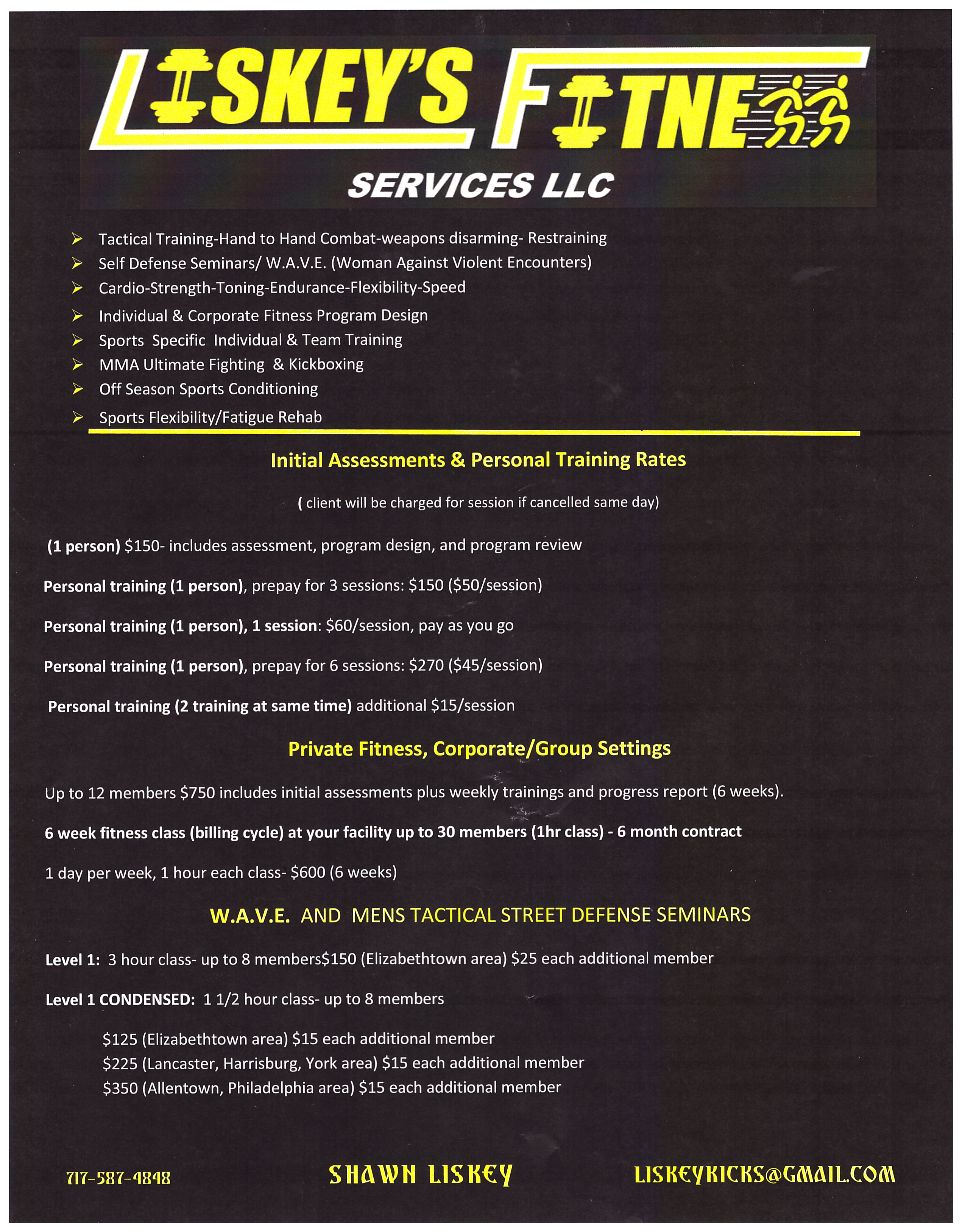 SPORTS / ATHLETIC TRAINING
Fitness Timeline:
1981 Started Martial Arts
1985 – Earned Black Belt
1989 – Started Full Contact Kickboxing
1992 – 1st official full contact kickboxing fight
1992 – Joined United States Air Force
1993 – 3rd Annual Air Force Fire Muster Team Captain & champions – Upper Heyford, England
1993 – European Champion in Martial Arts
1992-1994- Personal protection/ Bouncer for European contract
1992 to current – Undefeated full contact kick boxer in the ring
1995 – Movie, Super Fights: 1 of 2 picked to film as extra for fight scene in movie – 1100 martial artists tried out
2000 – Tactical Master Instructor- weapons disarming, Air Rage, and family protection
1995-2007 Health and Fitness Coordinator for Air Force, 193rd ANG unit CPAT equiv. assessments
Team Captain for Scott Combat Challenge team, led team through east coast competition, qualified and flew to LasVegas for world championships and made it to the finals
2005- developed "W.A.V.E." woman against violent encounters, level 1-3 street defense
2007 to Current – Career Firefighter- Fort Indiantown Gap – Health and Fitness Coordinator for civilian and military members. Health and fitness assessments & prescribe programs.
1996-2001 Liskey's School of Martial Arts Owner and Instructor.
2002- Emergency Medical Technician – (EMT)
2003- Personal Trainer – National Endurance Sports Training Association Certification
2008- Current – Submit combine drill stats for football and college basketball teams
2009-Present – Athletic Trainer for Elizabethtown College sports and students
2011- Presenter at Elizabethtown College Coaches Clinic – Presentation on observations of anatomy in athletes and the benefits of flexibility training and ideas for coaches to enhance athleticism.
March 2012 – 1st place Maltz Cross Fit fitness challenge
2012 – Elizabethtown Fitness Center pushups record holder
Compete regularly in adventure challenges – Tough Mudder & Cereb Run, Sparta Races.
June 2013 – New York Sparta Race – Finished top 1% – 32nd out of 4300 athletes
2001 – Present – Fighting Dragons School of Martial Arts/ Fitness Center- Owner, Instructor and Fitness Trainer – Offer martial arts and fitness classes, MMA, hand to hand combat, flexibility rehab and fitness seminars
2013- present- Athletic trainer at Milton Hershey School
Current or recent coaching:
Army Sports Coach: Combative and Fitness Instructor. Work with the Army combative coaches, teaching them advanced fighting techniques and fitness drills. Provide hand to hand combat and fitness conditioning for deploying soldiers.
Capital Blue Cross: W.A.V.E (Woman Against Violent Encounters)- seminars for female employees
Elizabethtown College: Basketball team athletic conditioning
Rheems Fire Department: weight loss and conditioning program
Personal fitness training for clients – Providing initial assessments and develop strength training programs and flexibility training. Constant monitoring of body fat testing and promoting BMI initiative.
Milton Hershey school athletes and coaching BMI initiative
2017- Developed "Subject Safety" program
2017 – Instructed " Subject Safety" to Northwest Ambulance employees
2017-  Instructed "Subject Safety" & Restraints & Escorting for entire  Elizabethtown Police Department staff
2017- Elizabethtown Area High school summer sports program director and coach for Excel all sports
Visit my Martial Arts/Fitness Training Site online at www.fightingdragonspa.com